As the most globalized nation on Earth, the Jewish people have a cuisine that is notoriously hard to define. But as Claudia Roden wrote in her The Book of Jewish Food, just "because a culture is complex this does not mean it does not exist." Our food is multicultural, because we have been influenced by the foods of the people we have lived alongside, all over the world. And there is no better place to discover that diverse gastronomy then right where I live, in Jerusalem, at our famous outdoor market, Shuk Machane Yehuda.
My entire journey into Jewish Food History began at that market, so it is an appropriate subject for a brief blog post here. As a licensed tour guide, one of my single most popular tours is a culinary tasting tour in this market (commonly referred to here simply as "the Shuk"). I always focused on the number of different countries of origin of the foods that sit side-by-side in the market, and I use that as a way of highlighting the multicultural makeup of the people of this city, and of the country overall.
In what is known as kibbutz galuyot, the ingathering of the exiles, Israel today is home to Jews who have moved here from literally all over the world. And as I've written in other posts before, when you move from one country to another, you miss the food you used to eat, and keep making it (as best as you can) in your new home. So by seeing foods from approximately twenty different countries, all next to each other, and none of them considered "exotic," we can see — better yet, taste — the multiethnicity of the Jewish people, and our food.
So with that, I want to briefly run through the many different countries we find there, and the foods that represent them. I am not going into that much detail here, since I have a special virtual program of this sort in the works, and will announce that as soon as details are finalized. So consider this a brief "teaser!"
Foods of the Whole World
I'm going to list foods by country, geographically by continent, and will give some brief comments along the way. I am not listing every food from each place, just one or two.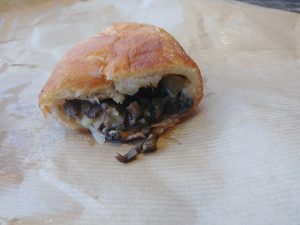 Asia
Kurdistan
Kadeh – A bread turnover with delicious fillings, the most common in the shuk being melted cheese.
Kubbeh – This could also be listed for Syria and Lebanon, as it has spread, but most recognize Kurdistan as its birthplace. Kurdistan is, of course, a region, not a country, and it spans parts of Syria, Turkey, Iran and Iraq.
Lebanon
Khidre – Named for the clay pot in which it is made, this dish mixes rice, small noodles, chickpeas, vegetables, chopped meat and 14 spices into a tender and aromatic blend.
Lachma Bajin – Like a meat pizza, with a thin crust topped with finely chopped meat that has been flavored with pomegranate syrup. This, too, could be listed with Syria, as Lebanon historically was a part of Greater Syria. It only became an independent country in the 20th century, so the food is similar. (The reason I don't list these foods as Syrian is simply due to the origins of the people who sell these foods in the shuk.)
Iraq
Sabich – Typical as Shabbat morning breakfast for Iraqi Jews, it contains thinly-sliced fried eggplant, hard boiled eggs and techina. The name derives from the Arabic word sabach, which means morning.
Persia/Iran
There are no Persian restaurants in the shuk itself (though there is a small Persian place hidden inside a nearby office building), but there are a few dry-goods stores that will sell special ingredients for Persian food, such as dried limes, rose water and chickpea flour.
Azerbaijan
Kutab – The Jews who live in the Caucasus, surrounding Georgia, in Azerbaijan and the southern states of Russia, are commonly referred to as Kavkazi or Mountain Jews. One new store in the shuk is owned by a young Azerbaijani immigrant. A specialty he prepares from his homeland is called kutab. A basic unyeasted bread dough that is folded over a stuffing, it is much thinner than most other cuisines' filled turnovers. Here it is served with fresh herbs inside.
Georgia
Khachapuri – A collective term for a number of different regional dishes there that combine two things. "Khacha" means cheese and "puri" means bread.
Russia
Pirozhki – A very new bakery that opened outside of the shuk features a number of different foods, including these Russian/Ukrainian specialties. The dough is very similar to a sufganiyah (jelly donut), but the fillings are savory: cabbage, egg and scallion, potato and mushroom, etc.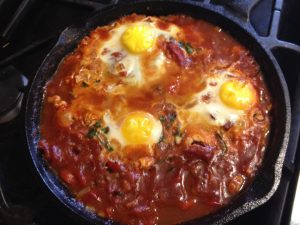 Israel
Shamburak – A delicious dish invented right here in Jerusalem that was originally designed to extend the leftovers from Shabbat. Like a meaty calzone, but better, it is filled with mashed potatoes, vegetables, and varoius different meat options. Delicious and not very expensive.
Meorav Yerushalmi and Yerushalmi Kugel – Both also invented here, I've written about them previously.
Yemen
Malawach, Jachnun, Kubaneh – Various types of breads and pastries that Yemenite Jews eat. Jachnun and kubaneh, specifically, are made for Shabbat, while malawach is a simple puff-pastry that is fried up fresh.
Levantine Arab
Arais, Knaffe – Foods that have originated among the Arabs of Palestine or Lebanon are recognized throughout the country. These two foods (one ground meat grilled in a pita, the other crispy semolina noodles with melted cheese and sugar syrup) are both local Arab favorites that have become uber popular among Israeli Jews in the past few years.
General Middle Eastern
Hummus, Techina, Halva, Sambusak – These foods and many more are eaten all over the Middle East, and have been eaten for millennia. They don't really originate clearly among any single people of any single country.
Africa
Ethiopia
There are a number of Ethiopian restaurants in Jerusalem, but none within the shuk itself. But as with the Persian cuisine, there are a few dry goods stores where you can buy spice blends, such as berbera, or tef to make injera bread.
Tunisia
Shakshuka – This eggs-poached-in-fresh-tomato-sauce dish definitely originates in North Africa, probably Tunisia. It is beloved in Israel, and is eaten for breakfast, lunch or dinner.
Morocco
Frena – A larger and thicker type of pita bread.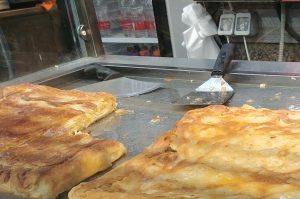 Europe
Turkey
Borek, Bourekas – Obviously, I could have put Turkey in Asia too, but since much of this comes from Istanbul, which is more in Europe than Asia, I opted to put it here. In addition to the Turkish Jewish bourekas, we also have places that sell borek, including an excellent buttery water borek sold by a new immigrant from Istanbul.
Doner kebab – Shwarma is very popular in Israel, but is the gastronomic descendent of the Turkish original, doner kebab. A fairly new place just outside the market sells this dish, mixing sliced and ground beef with some flavorful sauces and wrapping it in a thin lavash-type bread.
Poland
Babka, Rugelach – These might have better been placed with Russia, but since these entered Jewish cuisine via the Jews of Poland and Lithuania, I put them here. Both are well-loved, and well-known cakes/pastries.
Hungary
Kiortush – A hollow, cone-shaped pastry that is baked on a wooden frame. The inside that was flush with the wood stays soft while the outside gets crispy.
Austria
Schnitzel – In Vienna, this was made with veal or pork. Here it is made with chicken or turkey. But it is one of the favorite foods of Israelis of all ages.
France
Macaron, Croissant – With an increase in the number of immigrants from France, we have also seen an influx of more French-style bakeries.
England
Fish 'n' Chips – Invented, as I've written before, by an English Jew!
Italy
Pasta – Maybe not brought here by Italian immigrants, but still worth mentioning, since there are many Italians who live here.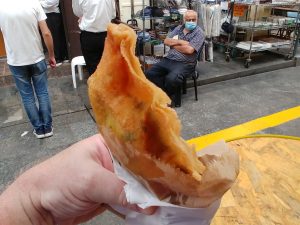 The Americas
Argentina
Empanadas – Though originally from Spain, these are now popular all over Latin America. One special type, invented at Machane Yehuda, features lamb, dates, peanuts and a Mediterranean spice blend. That a great example of fusion food!
Colombia/Venezuela
Pepitos, Arepas – All kinds of delicious meat sandwiches made as a panini-type toast or in a special corn meal bun. Started in the shuk and then moved to bigger digs just a block away.
United States
Pizza, Hot dogs, Buffalo Wings – We sometimes forget that Americans have influenced Israeli/Jewish cuisine as well. The pizza is New York style and shows the American influence, not an Italian style. Hot dogs, I've already explained are Jewish in origin. And buffalo wings may not be Jewish, but they wouldn't be here without the American Jews who brought them here (and made a kosher version without butter and with a non-dairy ranch dressing on the side).
Previous, now closed
A few places used to be in the shuk, but have since closed, but since they offer other cuisines, I want to mention them too.
Bukhara
Mantu – Bukharan Jews come from Uzbekistan, mainly. Among their many beloved foods, mantu are small meat-filled dumplings.
Libya
Brik – Similar to a boureka, but with a different type of dough. These are made using thick and crispy warka leaves, filled with potatoes and sometimes tuna fish. Then an egg is cracked into it and the whole thing is quickly deep-fried, leaving you with a cooked but still-runny egg.
Alsace
Choucroute – Yes, this is of course also in France, but as a separate regional cuisine, I wanted to separate them out. They did not offer the full choucroute garnie dish, but did make delicious sandwiches that combined choucroute (good sauerkraut) with various preserved meats.
Multicultural, or Just Food?
Perhaps the most interesting thing is how no one in Israel says, "let's go out for Argentinian food tonight." They just go out to eat and it might be Algerian or it might be Mexican. But it is all "just food" to us!
I focused specifically on the market, and the area immediately surrounding it. But in other parts of Jerusalem you can also find many more world cuisines. Most of the "Mexican" food that is sold in Israel is not genuine in any way, but we now have two excellent Mexican restaurants, one meat and one dairy, both the "real deal." Of course there are many foods that were not brought here by communities of Jews who came from these places — sushi and Thai food (also not usually genuine) are just foods that we enjoy, so I don't really include them in the list either. Indian Jewish foods are available at other places in Israel, but not in Jerusalem, and in the past we have had a couple of good Indian places that were not specifically Jewish. There is one like that (vegetarian) that has opened recently here as well.
When you come to Jerusalem, and you see all of these diverse foods, you understand how multicultural the single Jewish nation is. And then, when you discover that, at least more or less, it is all kosher, you realize how unified we are, within our diversity. And that's what really special.