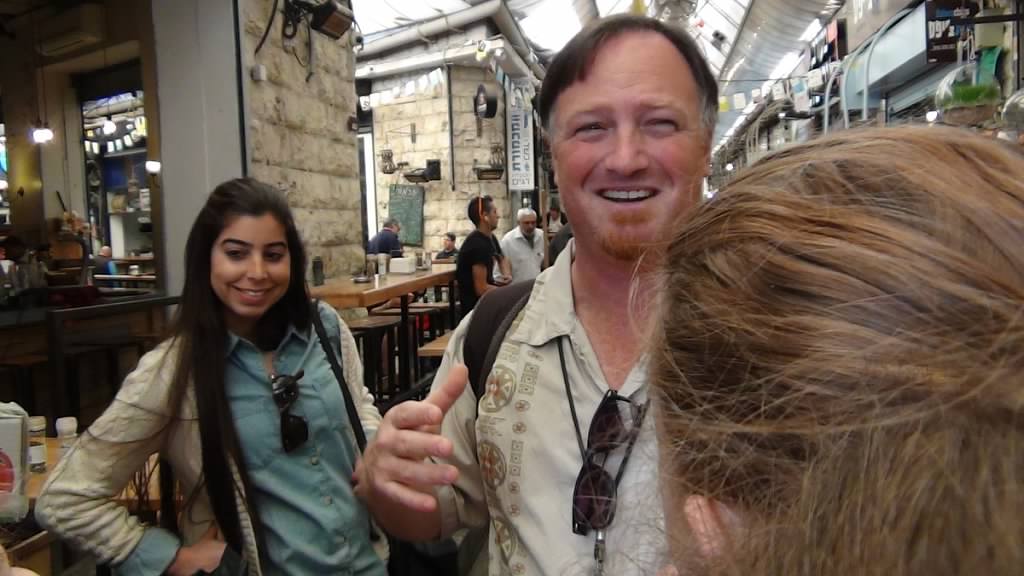 Over the years, I have written a good amount about various food-related topics. And due to my expertise and tours in Jerusalem's famous Machane Yehuda Market, I've gotten a lot of coverage in other media connected with that.
Here's a selection of some articles I have published, and a bunch of articles, videos, radio shows, and more that feature me and my expertise about the market and food.
By Me:
The Nosher
This Fruit Has a Sweet Jewish History (June 29, 2023)
Why It's the Perfect Time to Dive Into This Comforting Israeli Shabbat Stew (November 8, 2022)
One of Israel's Most Popular Street Foods Has a Fascinating Jewish History (October 12, 2022)
The History of Coffee Culture in Israel (January 26, 2022)
How Fleischmann's Yeast Built the Jewish Catskills (June 16, 2021)
The Tangled History of Noodle Kugel (April 5, 2021)
The History of Potato Kugel (March 1, 2021)
The Surprising Jewish History of Mushroom Barley Soup (November 30, 2020)
9 Frugal Jewish Foods From Around the World (October 6, 2020)
Adventurous Eaters Love This Jerusalem Street Food (September 29, 2020)
The Long History of Huevos Haminados, Slow-Cooked Sephardi Eggs (July 28, 2020)
The Forgotten History of Jews in the Alcohol Industry (July 7, 2020)
Hot Dogs Are the Greatest American Jewish Food. Here's Why. (June 11, 2020)
Tablet
Beyond the Beyond Burger (July 13, 2022)
Tradition: A Journal of Orthodox Jewish Thought
Review: Feasting and Fasting (December 27, 2020)
The Librarians (National Library of Israel blog)
Is Fish and Chips a Jewish Delicacy? (June 15, 2021)
Kosher Pork Chops and Crypto-Jewish Identity (November 19, 2020)
Jewish Journal (Los Angeles)
Embodying Unity in Your Rosh Hashana Meal (September 9, 2009)
Passover: Don't be a Slave to Tradition (April 6, 2006)
JamieGeller.com
Esfahani Haleem – An Old-New Shabbat Stew (November 2, 2022)
Jewlish.com
Ferik – Egyptian Hamin (October 28, 2022)
South African Jewish Report
A rewritten version of my post "Jewish Food That's Neither Ashkenazi or Sephardi" (July 20, 2023)
Jerusalem Post
"Valero Restaurant" (May 11, 2018) – A review in the weekend "Billboard" magazine. (I have no PDF of the print version, and it is not online, so this is the original, unedited text.)
"The Young New Faces of Machane Yehuda" (March 23, 2017) – About the next generation of store-owners in Jerusalem's outdoor market.
"Leave the Shuk Alone" (September 17, 2016) – An op-ed addressing the recent changes affecting the shuk.
Featuring Me:
Jerusalem Post
I'm quoted extensively in this profile of the Thursday Night Chulent phenomenon in Jerusalem. This is the subject of the book I'm writing, so of course, I had what to say. (March 31, 2022)
I also recorded an episode of the JPost Travel Podcast in Machane Yehuda Market. (June 19, 2023)
The Galilee Culinary Institute
Discussing Jewish Food History with GCI, the newest culinary school in Israel, a JNF project in the country's north. (January 2023)
J. The Jewish News of Northern California
Faith Kramer (52 Shabbats) cooks and reviews a recipe from my FREE Shabbat stew e-cookbook. (January 10, 2023)
MyJewishLearning.com
In this video, I discuss the history of Shabbat stews with cookbook author Adeena Sussman, moderated by The Nosher's Shannon Sarna. (November 8, 2022)

Israel21c
Quoted about my thoughts on the Knafeh craze in Israel. (November 28, 2022)
Finding Favorites podcast
Joel Haber loves Shabbat Stews of all flavors (October 9, 2022)
Jewanced podcast
A long discussion all about Jewish and Israeli foods. (April 3, 2022)
Joe Baur
Giving a tour and discussing Jerusalem food with Food and Travel blogger/writer/video dude Joe Baur. (May 28, 2023)

JewishDrinking.com podcast
An Introductory Overview to Jewish Drinking Through the Ages (May 26, 2020)
And a follow-up to discuss how Israeli alcohol producers responded to the Covid-19 pandemic. (October 12, 2021)
Chai Montreal podcast
All about Shavuot foods in Israel. (May 30, 2022)
JNS: Jewish News Syndicate
I'm quoted in "Cheesecake, Dairy, Coffee and the Evolution of a Holiday" discussing the origins of the dairy foods on Shavuot custom. (May 31, 2022)
Haaretz
A piece about virtual tours in Israel, including my tours of Machane Yehuda Market. (May 5, 2020)
The New York Jewish Week
I discuss Israeli street foods in "A Taste of Jerusalem." (March 24, 2015)
JLiving
Discussing the history of popular Jewish soups. (February 21, 2023)
Extra Crispy – MyRecipes.com
And here I contribute to an article exploring jachnun, a special Shabbat morning food. "This Yemeni-Jewish Pastry Isn't As Delicate As It Looks" (February 7, 2018)
Ta'am – Judaism on a Plate
Visits to a Lebanese restaurant and a craft brewpub with the head of Ta'am, a cool project exploring (as I do) Jewish culture through our food. (Aug 14, 2019)
"Always Something New to Taste" and "Happy Hour in Jerusalem"
Thomas Cook
Let me teach you all about techina in this great short video, part of a campaign promoting Jerusalem as a tour destination. (July 27, 2017)

Jewish Link
About my Fall 2021 U.S. lecture tour. (October 21, 2021)
And a review of one of my lectures on that tour. (November 11, 2021)
Kosher.com
An Instagram video I did in Shuk Machane Yehuda with Naomi Nachman. (July 26, 2021)
Saveur
"How to Navigate Jerusalem's Massive Machane Yehuda Market" (July 5, 2016)
Tasting Table
Listed among "The Best Food Tours Around the World" (May 22, 2017)
You can also find me in "This Market is the Hottest Place to Eat in Jerusalem." (April 5, 2017)
The Nosher
My Machane Yehuda Tour ranked as one of the best food tours in Israel. (June 20, 2023)
Forward
"The Ultimate Jerusalem Food Crawl: Mahane Yehuda's Most Tantalizing Must-Eats" (August 9, 2018)
Eat Your World
"Q&A: Joel Haber, Israeli Food Tour Guide, Jerusalem" (June 15, 2016)
Cruising Israel – ILTV
A jaunt with me through the shuk in the lead story, ending at 11:43 of this video. (December 13, 2016)

TimeOut Israel
I was included in a listing of the best culinary tours and activities in Israel. (April 23, 2017)
Table for Two with Naomi Nachman, Nachum Siegel Network
Extended length show on location – tour in Shuk Machane Yehuda (February 12, 2016)

Mom Who Runs
A blog review of my shuk tour (July 4, 2013)
Marni Landes DeWitt
Before I became a guide, I brought a visiting friend (who loves baking) to see one of my favorite local bread bakeries. (January 25, 2010)

Hatch Brewery
Hatch is one of my favorite eateries (and drinkeries, to coin a term) in Machane Yehuda. Here's a fun, two part "Shuk Facts" video I did with them (August 30, 2019)
PART ONE and PART TWO
The Cooking Corner with Sharon Lurie – 101.9 Chai-FM
Interviewed on a South African kosher food radio program (January 27, 2015)