Welcome to the newest recurring feature on my blog: Cooking Jewish Culture.
While this site is not a "cooking blog" per se, and it remains focused on my primary topic of Jewish Food History, I am going to incorporate periodic cooking posts. One of the things I've noticed as I research Jewish Food culture is that you can sometimes tell when when a writer hasn't actually tasted the food she or he is writing about. Now, of course, I write about plenty of foods I have not tasted as well, but to minimize the amount of them, I've decided to embark on this little project.
Periodically, I will select a significant Jewish Food that I have not made before. I will prepare it, and write up a blog post about the food, including a recipe, and my impressions of the dish. Obviously, since this is the website that it is, I will also include some of the history of the food that I am preparing. I hope you enjoy this new feature.
Choucroute Garnie à la Juive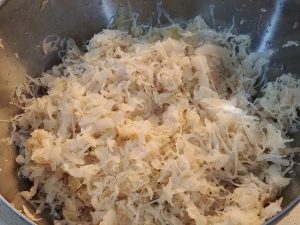 The dish I'm writing about today comes from Alsace, on the eastern side of France, near the German border. In fact, it was a part of Germany for centuries, and the food of the region mixes French and German influences. The core ingredient of the dish is the familiar sauerkraut — shredded cabbage that is pickled via lactic fermentation, brought on by the inclusion of salt alone. (Sauerkraut that contains vinegar is a cheap and inferior mass-produced substitute, and would be bad in this dish.)
The word choucroute (shoe-KROOT) is the French equivalent of sauerkraut (SOUR-krowt), and if you say them aloud, you can hear the similarity, particularly in the final syllable. The classic way of preparing choucroute in Alsace is as a dish called choucroute garnie, meaning "garnished sauerkraut." After being rinsed to remove excess salt, the sauerkraut is cooked together with various preserved meats. Alsace has a long tradition of charcuterie, making all kinds of sausages and pickled or smoked meats. Choucroute garnie appropriately includes many kinds of pork sausage and other pork products (such as smoked ham).
Interestingly, the Jewish presence in Alsace goes back far into the Middle Ages; it is, in fact, the heartland of the Jewish community known as Ashkenaz. Alsatian Jews had their own tradition of producing charcuterie, but using kosher meats, such as beef and goose. Thus, they would prepare their own, kosher version of choucroute garnie, using only meats that were permissible for them to eat, along with goose schmaltz (rendered fat) instead of lard. This version, called choucroute garnie à la Juive ("Jewish choucroute garnie") is recognized in Alsace, and might be prepared by non-Jews as well, alongside other classic types of the dish.
This tasty and filling one-pot meal could be eaten at any time of the week. However, some Jews in the region decided to turn it into their Shabbat lunch by slow-cooking it overnight on Friday night, in the manner of a chulent or hamin. The main thing that differentiates it from the many other Shabbat stews from around the world is the lack of grain. But because of that, the liquid in the pot doesn't get soaked up, and the dish remains moist even after cooking all night.
My Version of Choucroute Garnie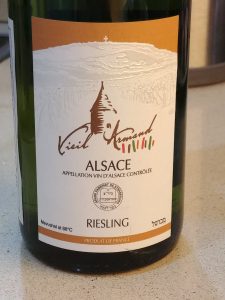 Clearly, one of the main reasons I wanted to make this dish is that this overnight Sabbath version relates to the book I am writing. If I am going to be writing about a dish like this, I want to know what it tastes like, and what the process of making it is like.
I looked at a number of recipes from websites and various books I own, and combined them based on what appeared most standard. Classic ingredients beyond the two main ones include carrots and/or potatoes (I included both), onions, dry white wine (I selected a Riesling from Alsace, the most frequently recommended wine), chicken broth, juniper berries, peppercorns, bay leaves, and garlic cloves. Some cooks add caraway seeds, but I left them out. Some put the seasonings directly into the pot, others tie them up in a small sachet; I opted for the latter.
Goose schmaltz would be the most classic, but since goose is somewhat hard to come by, and I had plenty of chicken fat and skin saved in my freezer just for this purpose, I decided to render the chicken schmaltz instead. (The making of that will likely be my next installment of Cooking Jewish Culture. EDIT: The schmaltz post is now up!) However, I did include goose legs in the stew (I was able to buy packaged frozen ones from my butcher), and rendered some of their fat out at the beginning, in addition to the chicken schmaltz that was the majority.
The main area of choice is in the meats to include. I knew corned beef would have to be there, as it is one of the most classic of Alsatian Jewish preserved meats (typically called by the German name pickelfleisch). Some day I may cure my own, but for this project I just bought an uncooked corned beef. It was huge, so I actually cut it in half after the initial boil, and baked the other half by itself in the oven, then sliced it and froze the meat. I also wanted a sausage of some kind, and found a kosher rosette-style sausage (this is a salami type of sausage from Lyon, typically made of pork, though this was beef, of course). It was made by a charcuterie place here in Israel, with a French proprietor. Finally, a smoked beef would also be common, so I selected a hunk of smoked beef at the store, and cut it into small chunks.
I prepared and cooked the dish inside of a 6-liter Dutch oven — enamel-covered heavy cast iron. This helped it retain the heat and the heavy lid let very little steam escape. I left it cooking overnight on my electric hotplate (what we call a "plata" in Israel).
The Results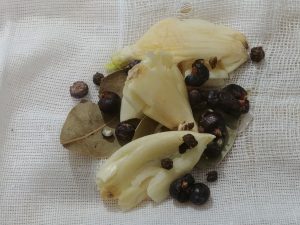 I had a few friends join me for lunch on Saturday to sample the goods. Based on their comments and my own feelings, this was generally a successful effort. One thing I'd improve is the seasoning — it needed a lot more. Therefore, in the recipe below I have literally doubled from the amounts that I used. I also felt the wine was not particularly noticeable, so I've shifted the proportion of wine and broth in the recipe.
The potatoes were outstanding. (One of my friends said they might have been the best potatoes he'd ever eaten!) That being said, some of the meats got a bit dry for my taste. And the smoked beef I selected was definitely the wrong type — way too dry/hard to begin with! I would definitely be more careful in selecting my meat next time (many recommend a pastrami, which is both smoked and pickled). I think that ensuring they are really buried in the sauerkraut and cooking liquid might help as well, but I'll need to think on that a drop more. Either way, they weren't terribly dry, just a bit more than I'd have ideally liked.
Everyone agreed that the sausage was the best part. Which is a good thing, because it was also fairly expensive! So I'm glad it was worth it. But that brings me to the next point, which is that this dish was definitely not cheap to make. The preserved meats, in particular, can add up in price quite a bit. So that being said, I think you can definitely consider making this dish with less expensive meats — a regular salami, hot dogs, a somewhat smaller corned beef (or a home-pickled one), maybe even some smoked turkey breast. While some may be less "traditional" selections, I think the overall dish would be fairly similar.
A fun project, and a delicious and filling Shabbat meal! If you make this, let me know how it comes out for you. And if you're in Jerusalem, feel free to pop in for some leftovers!
Print Recipe
Choucroute Garnie a la Juive (Sauerkraut and Kosher Charcuterie)
A classic dish from Alsace, France, that combines real fermented sauerkraut with kosher preserved meats. In this case, prepared as an overnight Shabbat stew, for Saturday lunch.
Equipment
Dutch Oven

(at least 6 quarts)

Strainer/colander

Cheesecloth
Ingredients
2

lbs

sauerkraut

(made using salt, not vinegar)

2

lbs

corned beef brisket

whole

8-10

medium potatoes

2

tbsp

schmaltz

(chicken, duck or goose), or vegetable oil

2

goose legs

split into thighs and drumsticks

1

onion

chopped

2

carrots

chopped

2½

cups

dry white wine

(e.g. Riesling from Alsace)

1½

cups

chicken broth

1

beef sausage

(e.g. salami, rosette)

½

lb

smoked beef or pastrami

cut into chunks
For Spice Sachet:
6

cloves

garlic

smashed

20

juniper berries

smashed

12

peppercorns

4

bay leaves
Instructions
Rinse sauerkraut thoroughly in a colander under cold water to remove excess salt. Drain. Rinse again under warm water and drain. Squeeze handfuls of the sauerkraut to remove as much water as possible and place in a large mixing bowl. When all of the sauerkraut has been squeezed fairly dry, pull the cabbage apart, loosening the clumps into separate strands.

Place the corned beef into a large pot of water and bring to a boil. You may continue with other steps while this takes place, and just keep an eye on the meat. After boiling for a few minutes, spill out the water and bring to a boil in a fresh pot of water. Drain again and set meat aside to cool.

Boil potatoes in well-salted water until they start to get soft. Drain and allow to cool, then peel off their skin. This, too, may be done alongside the following steps.

Melt schmaltz in a large Dutch oven. Place the goose legs in, rendering some of their fat and browning on all sides. Remove legs to a plate.

Put onion and carrots into the pot, sauteeing in the rendered fat. Continue until soft, but not brown, approximately 5-8 minutes.

Add the sauerkraut and mix with the onions and carrots, continuing to sautee in the fat, about 3 more minutes.

Create a spice sachet:

Place spices (garlic, juniper berries, peppercorns and bay leaves) into a small piece of cheesecloth. Tie closed into a loose sachet. Place spice sachet into the sauerkraut mixture.

Add the wine and chicken stock to the pot. Let simmer, covered for 5 minutes.

Bury the goose legs, sausage (cut in half if necessary to fit in pot), smoked beef and corned beef inside of the sauerkraut mixture. Place potatoes around the edges, also partially submerged in the sauerkraut.

Place in oven for about an hour.

Leave covered pot overnight on an electric hotplate, or in a 250° F oven.

Before serving, remove and slice the corned beef and the sausage. Place sauerkraut with vegetables and smoked beef chunks in the middle of a large serving platter. Arrange the goose legs, corned beef slices, and sausage slices around it.

Serve accompanied by mustard.