I've been on a bit of a hiatus while traveling and speaking in England. So a drop late on my annual year in review post, but hopefully not so much that it is irrelevant to you! (Here is a link to last year's post, if you want to compare and see how much things have changed or progressed.)
What Was New in 2022?
Let me start with a few of the trends and news-worthy stories of the past year in Jewish Food.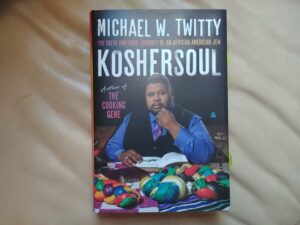 A very significant and long overdue development, in my view, was the rise in cultural awareness of Black Jews and other Jews of Color. This, of course, was something taking place in wider society, but we saw it expressed in the Jewish Food world as well. One chef opened a "Blewish" (Black and Jewish) food restaurant in Minneapolis' George Floyd Square. Michael Twitty released his second book, Koshersoul, focused on the foods that sit at the intersection of his Black and Jewish identities. Be'chol Lashon announced their upcoming cookbook focusing on foods from across the Jewish patchwork. And there was an article early this year that featured a menu for "A Soulful Shabbat."
I didn't follow the Twitter/Instagram/Tiktok trends that carefully this year, but one that was hard to miss was the increased focused on babkas of all vareities, including savory babkas. Which makes sense, since challah certainly trended the previous year or two, and babka originally was just a repurpose of challah dough!
Israeli alternative protein companies have been, as you probably know, one of my ancillary Jewish Food interests. I am very interested in seeing how this will affect Jewish food overall. One interesting development was a rabbinic position paper released that stated that, under some circumstances, lab-grown meat might be considered pareve (neither officially meaty or dairy), and thus could be consumed with dairy. On a more practical level, the Israeli government recognized the importance of focusing on alternative protein technologies. They even set up a Cultivated Meat Consortium.
Another important news story this year was what appears to be a change of attitude in Europe. The EU sat down with members of the Jewish and Muslim faiths to discuss kosher and halal animal slaughter. This marks a shift from blatant crackdowns and attempts to widely outlaw the practices.
And, as always, we also saw some deaths this year. Though he wasn't Jewish, Jews loved the cakes of Charles Entenmann so much that he might have been considered an honorary Jew. He passed away earlier in the year. And at the very end of the year, we lost Cara De Silva who edited the remarkable book In Memory's Kitchen, that included recipes recited from memory by Jewish women in Terezinstadt, who would later be murdered by the Nazis.
New Releases and Openings
As always, a slew of new and good Jewish Food books were released this year. Here are a few of the notable ones, in my view:
52 Shabbats, Faith Kramer (technically from the end of last year)
Cooking alla Giudia, Benedetta Jasmine Guetta
Modern Jewish Comfort Food, Shannon Sarna
Feeding Women of the Talmud, Feeding Ourselves, Kenden Alfond
The Kingdom of Rye: A Brief History of Russian Food, Darra Goldstein
Early Jewish Cookbooks: Essays on Hungarian Jewish Gastronomical History, András Koerner
Jews, Food, and Spain: The Oldest Medieval Spanish Cookbook and the Sephardic Culinary Heritage, Hélène Jawhara Piñer
Of course, there were also plenty of new restaurants that opened this year. A few of those, around the world, that I see as notable in some way or another: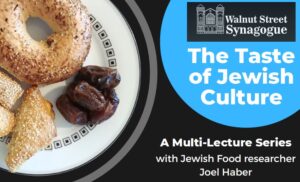 Museums also got in on the Jewish Food act this year. A Budapest museum featured an exhibit on Hungary's Jewish Food, and "I'll Have What She's Having" focused on the American Jewish deli, first at Los Angeles' Skirball Center and then at the New York Historical Society. Meanwhile, Warsaw's Polin Museum created an incredibly in-depth online exhibition about Jewish Food called "What's Cooking." Highly recommended!
And speaking of online content, there was of course some more Jew Food content worth viewing. Though not exclusively focused on Jewish food, Taste of the Tenement featured it prominently. Not for everyone, of course, but YIVO featured a series on cooking classic Ashkenazi offal dishes. I haven't watched it, but on the real pop culture front, I hear the Try Guys have included a lot of Jewish Food content of late. And I've been in a number of videos and podcasts lately, discussing Jewish Food. I spoke about Shabbat stews with Adeena Sussman here, as well as on the Finding Favorites podcast. I also spoke extensively about Jewish and Israeli foods on Jewanced, and specifically about Shavuot foods with Chai Montreal.
What I've Done This Year
Lastly, I wanted to update you on what I've done this year. In addition to more
articles I've published
, I also released my
FREE e-cookbook of international Shabbat stew recipes
. Taking that further, I launched a new sister site to this one, focused exclusively on Shabbat stews, at
ChulentBook.com
.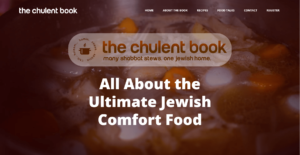 I have continued on pace with the writing of the book itself. I have just two more main chapters and a conclusion left to write in the first draft, so I hope to complete that in the next few months.
On the blog, I continued some recuurent features, such as From the Jewish Food Bookshelf and Cooking Jewish Culture, and I also put out my first couple of Jewish Food Trivia Quizzes. Along with regular ongoing content, of course, about Jewish Food History in general.
Finally, I have increased the amount of lecturing I am doing, both online and in person. I just got back from England where I lectured four times, and last month I began a year-long online series for the Walnut Street Synagogue in Boston. I will also be going to the United States in February/March for a 2 1/2 week lecture tour that is alrgely booked already, and details will be announced soon. But if you are interested in having me come speak to your community, I still have a few open dates. Be in touch, to see if it is possible!
Here's hoping that 2023 brings more great Jewish Food (both stories and the food itself) into all of our lives!
* * *
Please Share This With Other Jewish Foodies!