When it comes to cooking for the Jewish holidays, people fall along a menu-selection spectrum that runs from fully traditionalist ("I make what my mother made, which is what her mother made") to rather adventurous ("I want to serve something new for the new year"). I've typically leaned towards the latter end of the spectrum, though I still look for foods that have connections to the holiday, even if they aren't necessarily what my mom makes. So this year, I intend to cook T'fina Pkaila for the lunch I am hosting on the first day of Rosh Hashana.
T'fina Pkaila is a dish that my mom never made, and likely never heard of. Or at least not until she saw the cookbook I just put out, which includes a recipe for it! (And if you have not yet downloaded it, I invite you do so now. It is free, after all.) Still, since the dish is Tunisian in origin, and my mother's holiday foods were straight-up Ashkenazi (as opposed to her more wide-ranging menus the rest of the year), this dish would never appear on her Rosh Hashana table. While it is definitely a Shabbat food in Tunisia, it is also commonly made for Rosh Hashana, thus giving it the holiday connections that I am looking for.
What is T'fina Pkaila?
Well, actually, it is a combination of two things. The pkaila itself is a Tunisian sauce/condiment(1)Rabbi Robert Steinberg The Sephardic Kitchen that is made by wilting and cooking down chard (also known as mangold or beet leaves) until it reduces to a thick, dark-green-to-blackish mass. Sometimes it includes onions, and it typically features some other greens as well, such as fresh mint and/or cilantro. Some people use the related spinach in place of chard, due to personal taste or availability.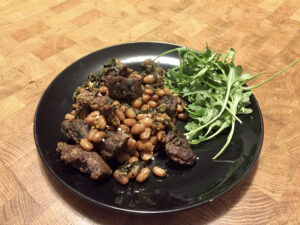 In general, that pkaila sauce can be used to accompany many other dishes. One of its most common applications, however, is as the base for a slow-cooked overnight Shabbat stew, called t'fina pkaila. The "t'fina" part is an alternate pronunciation of dafina, one of the main names for the Shabbat stew in Morocco. That in turn, derives from one of the dish's two most common names in medieval Spain: adafina, coming from the Arabic word meaning "to bury." (The most common way of keeping the dish warm until Shabbat day was to bury it in coals or embers. Hence the name.)
Thus, taking a pkaila base and using it to create a shabbat stew yields a t'fina pkaila. The classic version combines the pkaila with cubes of meat (lamb or beef) and white beans, among other flavoring ingredients. It does not contain a grain that it is cooked with, but t'fina pkaila is typically served with couscous or rice. Presumably due to the relatively small size of Tunisia, and the community of Jews who trace their roots there, t'fina pkaila is not nearly as familiar to Jews around the world as many other North African Jewish dishes. Liel Leibovitz, in The 100 Most Jewish Foods, called it "hipster Jewish dream food" because "It's the greatest authentic dish you've never heard of."
Some Pkaila Suggestions for RH
So as I mentioned, this dish is often eaten as a regular overnight Shabbat stew. But I wondered how it was eaten for Rosh Hashana, since according to halacha (traditional Jewish law) one is allowed to actively cook on the holiday, unlike Shabbat. So I posted in a number of Facebook groups that I know to see how people who regularly make this dish do it for RH. Do they leave their t'fina pkaila cooking overnight for the holiday too, or do they cook it before the holiday, put it in the refrigerator, and just reheat it or finish its cooking on the day of the meal? Interestingly, I got both answers. Some do one, some the other. So I guess it is a matter of personal taste. I think that so long as the meat is sufficiently cooked at serving time, there probably is no need to leave it going all through the night.
Also, one of the reasons the dish is popular for Rosh Hashana is that chard is commonly eaten on the holiday as a symbolic food. So one way to up your game would be to incorporate other symbolic foods in here. I suugest replacing the standard white beans with black-eyed peas, which as I mentioned in that post are a common choice for rubia (most likely actually fenugreek, but still…). Additionally, if you go the lamb route for your meat, that has significance on the holiday due to the connections with Akeidat Yitchak. A different option is to specifically use beef cheeks rather than a different cut of meat, as a reference to the traditional eating of a head (we should be the head and not the tail).
I plan to do these things, as I make it for my Rosh Hashana lunch, but there will also be a degree of stepping away from tradition. I have a number of people who will not eat that traditional version of the t'fina pkaila due to dietary restrictions (chosen or allergic), and those restrictions don't all match each other. So I plan to make "t'fina pkaila three ways." I will make the pkaila first (without the mint, since one person can't have that, and will remove a portion for hers then add mint to the rest). Then I will have my main pot with meat (still unsure what kind I will use), a second with salmon chunks, and a third using seitan!
If you make this for the holiday (or have made it in the past), I'd love to hear your results. And if you're looking for a base recipe to start from, check out the one in Chulent & Hamin: The Ultimate Jewish Comfort Food. Comfort is another blessing we can all hope for in the year ahead!
Wishing you all a sweet (and savory) New Year ahead!
* * *
Liked It? Share it!
Footnotes

↑

1
Rabbi Robert Steinberg The Sephardic Kitchen