This past year is not likely to go down as many people's favorite. (Yes, I am a master of understatement.) That's why I'm looking forward to 2021, and why I chose to feature next year in this post's main photo! But despite the many bad aspects of 2020, there were numerous positives in the world of Jewish Food this year as well. While touching on some of the sadder bits, I'm going to focus on the good!
Let's get some of the negatives out of the way first. In addition to the personal tragedies that so many of us faced, and the massive disruption to the entire world, the pandemic wiped out so many individual programs and plans. Some of the biggest annual Jewish food events were cancelled, including the Hazon Food Conference and KosherFest. And with lockdowns of varying degrees in different places around the world, many excellent eateries have been forced to close their doors. I assume it is similar where you live, but here in Jerusalem it constantly pains me to see how many have permanently shut their doors, after struggling to make it through the ups and downs of closures and regulations. I hope and pray that those who have survived this long are able to make it through to the other side, which seems to be slowly nearing.
Now on to the Good
With that, 2020 also saw renewed interest in food in general, and Jewish Food in particular. Stuck at home, and with a lot more free time, more people began or restarted cooking and baking. While creative challah baking has been a trend for a while, it definitely reached new heights this year, as evidenced by Instagram. Also using yeast dough, the homemade babka trend also increased this year. I cook, and don't bake much, but even I baked more bread this year — okay, it wasn't challah or sourdough, but I definitely ate it for Shabbat on more than one occasion!
For those who were looking to up their Jewish cooking game, numerous cooking workshops by excellent teachers cropped up via Zoom. Many were free, or relatively inexpensive. A couple of excellent examples come from my friends and colleagues Harry Rubenstein and Jennifer Abadi.
Other Online Content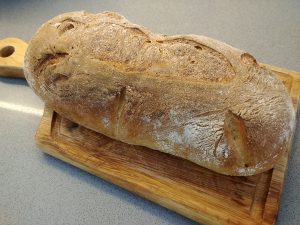 In addition to cooking demonstrations, other Jewish Food projects drew us together online, and actually brought the subject to many more people. YIVO Institute for Jewish Research took their in-depth seven-part online course on Ashkenazi food, called "A Seat at the Table," and offered it for free. I saw one article that said they had over 10,000 registrants! I watched the whole thing over a number of weeks and learned quite a bit. More recently, they offered last week a one-off lecture on Jews and Chinese Food that was attended by over 1000.
We also saw a brand new Jewish Food festival that launched this year. Organized fairly quickly, raising money for food-related charities, and offering a wide array of programming aimed at different audiences, The Great Big Jewish Food Fest offered ten days of top-notch and fun programming back in May. Many of the above online programs are fully or partially available for viewing online still today, so if you are interested and missed any of this, do a little searching!
I, of course, also got into the game, starting with my presenting "Chulent and Hamin: The Stew with 1000 Flavors" (video is just of the intro) at the first-ever digital Limmud eFestival, held by Limmud North America way back in March. Subsequently, there have been many more online Limmud events, and (for example) the recent Limmud Med featured a high percentage of sessions about Jewish Food as well.
Following my Limmud talk, I delivered a number of online food talks, as well as virtual tours of Machane Yehuda Market. Schools, synagogues, organizations and groups of private individuals hired me for such programs, and they are ongoing (with my next one coming up in a few days' time). If you, or anyone you know, if looking for some good Jewish Food-related programming, please be in touch.
2020's Jewish Food Books
2020 also saw a few interesting Jewish Food books published. There were, of course, new cookbooks. Though I have not read/seen these, I'll highlight two. One of the popular ones, built off of a very popular social media presence, is Danielle Renov's Peas, Love & Carrots. At least among the Orthodox, kosher-keeping crowd, this is one of the hottest options of the year. Another one that I came across online is called Feeding Women of the Bible. Connected with a vegetarian Jewish blog, it seems to offer some interesting combinations of recipes and areas of study. Though technically from 2019, I also want to mention one other book that came out at the very end of last year. András Koerner's Jewish Cuisine in Hungary: A Cultural History with 83 Authentic Recipes is really top notch. Combining serious food studies scholarship with interesting and genuine archival recipes, this book is a great purchase for any Jewish Food nerd.
On the more academic level, 2020 also brought another interesting anthology of essays on Jewish Food studies, Feasting and Fasting: The History and Ethics of Jewish Food. Walking a line between the more academic and the mainstream, this book features and interesting combination of articles on an array of topics. You can read my review (that also puts it in the context of overall food studies) published this week by Tradition: A Journal of Orthodox Jewish Thought.
Finally, on a personal note, this was a year where I made lots of progress in my own Jewish Food studies. I started this blog, and am so grateful for the many people who visit it and read it regularly, and/or who have signed up for my mailing list. I've begun publishing articles about Jewish Food History as well, and look forward to writing more in the future. And obviously the most important thing for me is the significant progress I've made on my book about Shabbat stews from around the world.
I thank you all for joining me on this journey. I wish you all wonderful things and good Jewish Food in 2021. May we all get to share meals, conversations, drinks and hugs in the upcoming year! I hope to be able to see many of you in person!