In what has now become an annual tradition, I'd like to welcome you to my Jewish Food Year in Review. To see how much (or little) has changed since last year, here is 2020's Year in Jewish Food post.
While the world has not yet fully emerged from under the cloud of the Covid-19 pandemic, there was a lot to be happy about this year, with vaccines allowing us at least some periods of a semblance of normal. I hope that all of you at least found some time to enjoy and feel closer to "the old days." And of course, to eat lots of good Jewish foods, at home and out, and maybe even some that you had never tried or made before!
Jewish Cuisine in Pop Culture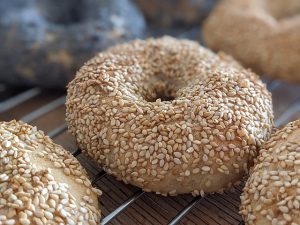 This past year brought some notable pop culture moments for Jewish Food. For starters, back in April, Duolingo launched a Yiddish course on their popular language-learning app. That, of course, has nothing to do with food, but to promote it, they arranged with delis in five cities that if you ordered in Yiddish (broken or fluent), you'd receive a free bagel and schmear (cream cheese)! This just underscores the deep connection between our food and our culture!
Since so many people know that I am writing a book about chulent (or cholent, depending on your chosen transliteration), along with all of the other Shabbat stews, this next one was probably the story forwarded to me the most this past year. With our favorite Jewy TV star Mayim Bialik at the helm of Jeopardy, a category about Sabbath featured a question that mentioned chulent! I might nitpick a bit with the question/answer, but still so wonderful to see the exposure afforded to this most Jewish of foods! (And as an added pop culture bonus, check out the "Jewy TV" link above for my friend Esther's cool podcast on the subject…)
Finally, the uber-popular food TV host and cookbook author Padma Lakshmi featured Jewish Food in a special Hanukkah episode of her Hulu show Taste the Nation. And what more appropriate place to do it than on the Lower East Side of Manhattan, on the episode Happy Challah Days (pun clearly intended).
The Controversies that Surround Jewish Food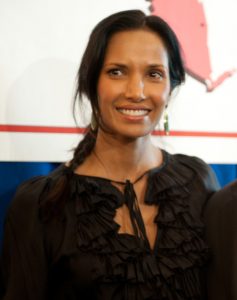 As with any discussion in Judaism, Jewish foods also gain their share of arguments. One of the bigger one's this year drew food into the political arena. Ben & Jerry's ice cream decided they would stop selling their products in the West Bank to protest Israeli government policy there. (I am purposely not linking to any story here, as I have no desire to give any more PR than this story has already received — I disagree personally with the policy, but I also think it got blown way out of proportion, giving them the publicity they presumably wanted. But I'm writing about it, because it is relevant to this post.) Whatever one's political viewpoint, either about American politics, the Israeli-Palestinian conflict, the BDS movement, or big business vs. social consciousness, this story brought a lot of string feelings to the fore, and significant backlash against Ben & Jerry's and parent company Unilever. And it all started from a couple of Jewish guys and the food product they sell.
Less controversial, but certainly more significant and more connected with Jewish food specifically, was a decision by the OU — the largest kosher supervision agency — to not certify Impossible Pork as kosher. Notably, the organization made clear that there decision had nothing at all to do with the actual kashrut status of the plant-based treif-alternative. They simply refused due to "sensitivities to the consumer." The linked article above raises many of the issues that touch on this subject within halacha (Jewish religious law). And while it is still possible that Impossible Pork could get certification from one of the OU's competitors, the questions raised by this story highlight the issues that Jewish Food will face as we continue to encounter new technologies.
Which brings us to…
What's Happening in Israel?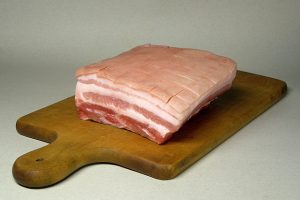 My home of Israel is growing into a real hub of Food Tech and especially meat alternatives. In fact, it is literally becoming a hub (or at least building one), in Kiryat Shmona, way up north. A few of the interesting areas being advanced here include companies focusing on 3D-printing lab grown meat, plant-based alternative proteins and even mass production of edible insects. While there will certainly be controversies for some of these technologies, we might just see Jewish Food helping to save the world!
Two new Israeli institutions also connect with Jewish Food. ASIF is a culinary center that opened in Tel Aviv this past year, designed to explore aspects of Jewish Food culture. And for those who visit, they have a great, free library with an incredible collection of food books. Also, perhaps more a story for next year, but in the process of being built is GCI: The Galilee Culinary Institute. They will be a new style culinary school, focusing on local flavors, sustainability and tourism and hospitality.
New Jewish Cookbooks
There were three notable releases in Jewish cookbooks this year (to be honest, I have only read one of these). I have already written my review of Hélène Jawhara Piñer's Sephardi: Cooking the History, an excellent cookbook that mixes history and contemporary recipes from the world of Spanish Jewry.
Certainly the hottest Jewish cookbook this year (and one with some truly excellent PR behind it) was Jew-ish by Jake Cohen. The response has been overwhelmingly positive across the Jewish world. Cohen clearly hits the zeitgeist on the head with this book! I look forward to checking it out.
The most recent addition just came out, from my new-ish online acquaintance, Faith Kramer. 52 Shabbats: Friday Night Dinners Inspired by a Global Kitchen looks like a really delicious blend of festive meals and diverse tastes.
Looking Backwards
As an ancient people, Jewish Food has a long history. And while many of the new things featured in this post are exciting, the ancient (or medieval) can be just as interesting! An archaeological dig in Oxford, England brought some intriguing finds about the Jews who lived there in the Middle Ages. Digging through an old latrine, they used the science of poopology (yes, I sort of made that word up) to show that medieval English Jews kept kosher! That may not be very surprising, but it is still cool to see confirmation coming from archaeology (and poopol… oh, never mind).
This past year also brought the death this summer of Nach Waxman, founder of Kitchen Arts & Letters. That store is a paradise for lovers of books about all aspects of food and drink, and it was a pleasure visiting there for the first time on my recent trip to the States. I had been looking forward to meeting Nach, so it was very sad for me to hear of his passing. And while the store is not exclusively about Jewish Food, there is a nice selection that relates, and Waxman was very connected to his culture and background. (I know there was at least one other major Jewish Food figure who passed away this year, but I can't for the life of me remember who it was. Feel free to remind me if you know!)
On the education front, this year saw the return of the KosherFest convention, though Hazon Food Conference was not brought back this year either. Furthermore, there was no follow-up after YIVO's excellent A Seat at the Table from the previous year, nor did the Great Big Jewish Food Fest return to its online venue. So unfortunately, there were fewer opportunities for "big" Jewish Food learning.
That being said, a couple of better-known personalities in the Jewish Food world got into the online video series biz: Michael Solomonov brought us "Bringing Israel Home" and Tablet Magazine presented Joan Nathan in "Joan Knows Best." Of course, I also upped my offerings, presenting a number of Food Talks about the history of Jewish cuisine via Zoom to various organizations.
And About Me…
With the success of those online talks, I also went to the States in October and November for my first Jewish Food History Lecture Tour. And what a great time it was! I gave 18 lectures in 5 states, and had a great time doing it. Over 500 people learned about my approach and niche in Jewish Food studies. (The main image of this post was from a lovely backyard lecture to about 30 people in my old neighborhood in Los Angeles.)
I also made great progress on my book, with which I am nearly halfway done. I can't wait to share it with you all! In addition to the book and posts here on my blog, I also wrote a number of food articles, primarily for the Nosher. You can always find links to my articles on my Press page.
Looking ahead, I plan to finish the manuscript for my book in the first half of next year. I will also, very soon, be launching a dedicated website connected with the topic of the book, so stay tuned for that! I am also constantly trying to improve this blog, and the newsletter I send out monthly (more or less). To that end, I have created a short survey, that will help me listed to you and find out what you want to hear from me. It shouldn't take more than a minute or two, and would mean a lot to me if you'd fill it out. See below!
And with that, I'd love to wish you all a very happy and healthy 2022. Live well, love well and EAT well!