Every year my mom used to make her Passover rolls, and over time I've seen many people use a generally similar recipe. Not sure when this was started or by whom (though I'm guessing it is Ashkenazi, as others would eat kitniyot, more than relying on matzoh meal), but it became very popular. I've tweaked it a bit, improving it (in my opinion), thus making it a good option for my next Cooking Jewish Culture post. I know it is a bit late in the holiday to be posting this, but I've been busy, and there still is some time left to make these for this year.
The classic Passover rolls are good when fresh out of the oven, but get dry fairly quickly. I've made two changes to both improve the taste, and the consistency. They're still not 100% perfect, so see this as a work in progress, but I still like them much better than the ones I grew up with (with all credit to my mom, as is due).
Adding Onions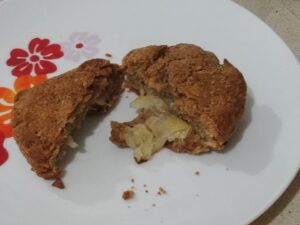 The first time I made these was two years ago. When the pandemic first hit and I was in lockdown for Passover week with my parents, so I could make seder (and the rest of the holiday) for them, and my mom requested a batch of these rolls. After my first attempt, I decide to up my game with an obvious (to me) improvement: fried onions. They add flavor and a moist texture that lasts even as the dough starts to dry out a bit.
Back then, after frying the onions up, I mixed them directly in with the dough. This time around, thinking of the delicious onion rolls I remember from growing up, I decided to bake the rolls with a pocket full of onions in the middle. Those are the ones you'll see in the video below. I love biting in and getting that mouthful of sweet caramelized onions, but at the same time, they lost some of the ability to counteract the drying out of the rolls themselves. So, in the recipe below, I suggest doing both.
Lightening the Consistency
One of the quirks of the laws of Passover that many people overlook is that chametz has a fairly specific definition. Yeast is not forbidden (otherwise we wouldn't be able to drink wine, for example). Also, leavened dough is not a precise translation of chametz either; it is dough made of the 5 classic species of grain that has been leavened using yeast. What that means, however, is that other leavening agents, such as baking powder, are permissible to use.
In this case, I added in some baking powder, but due to the fairly coarse texture of the matzoh meal, I felt like it might make sense to lighten the dry mixture that would become the dough. I had finely ground quinoa in the house, so I used that flour to replace part of the matzoh meal. I believe that a few even better (though perhaps slightly less nutritious) options might be potato starch, almond flour, or even matzoh cake meal. My rolls with baking powder definitely were puffier than the ones I've made without, and I believe with a higher percentage of fine starch in proportion to the standard matzoh meal, it might get even airier and light in consistency. I might even add more baking powder as well.
In the recipe below, I'm writing it as I made them in the video (except the one change that I had done previously, of mixing some fried onions in with the dough itself). Because these were pretty good as is. But the next time I make them, I will experiment with a different fine starch (and a higher proportion of it) and more baking powder. Feel free to experiment yourself!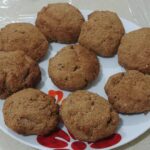 Print Recipe
Passover Onion Rolls
I took the standard, widely prepared matzoh meal rolls, and added more flavor and a lighter consistency.
Servings:
10
rolls (approx.)
Ingredients
2

tbsp

butter

2

medium onions

diced

A few

dashes

salt

2

cups

matzoh meal

½

cup

quinoa flour

½

tsp

salt

½

tsp

sugar

1

tsp

baking powder

1

cup

water

½

cup

oil

5

eggs
Instructions
Melt butter in a frying pan. Add onions and slowly fry them over medium heat. Add salt, not for taste but to help draw out the liquid and soften the onions. You do not want to brown the onions. Rather, you will slowly fry them to let them soften and get sweeter, while remaining white. If you see them starting to brown, turn down the heat. The process should take around 30 minutes or so. Taste (carefully, as they are hot) to determine when they are soft and sweet enough.

As the onions slowly cook, put into a large mixing bowl all of the dry ingredients: matzoh meal, quinoa flour, salt, sugar, and baking powder. Stir them together to mix thoroughly.

In a saucepan, add the water and oil. Bring to a boil.

Slowly pour the liquid into the dry ingredients. Mix together to form a crumbly dough. Then, add one egg at a time, mixing to incorporate before adding the next. Once all five are in the dough, mix in half of the soft onions. After everything is all blended together well, place the bowl with the dough into the refrigerator to rest for about 15 minutes.

Preheat oven to 375° F / 190° C. Take out the dough and have the rest of the onions ready as well. With oiled hands, remove a small handfull of dough. Shape into a roll shape, then create an indentation on top using your thumb. Place a teaspoon of fried onions in the depression, and close the dough around it. Once it is sealed, smooth the outside and place on a cookie sheet covered by baking paper. Repeat, until you have used up all of the dough and onions.

Bake for around 30 minutes, checking periodically to see if they are getting overdone. These taste best when fresh out of the oven!